7 Days Uganda Wildlife Safari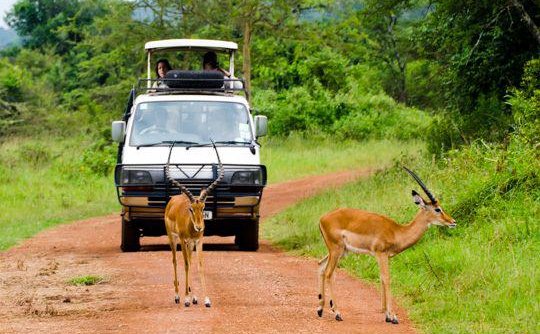 Destinations:
Kidepo National Park
Murchison Falls National Park
Ziwa Rhino
Gallery
Itinerary
Day 1
Drive To North Uganda Ziwa Rhinos And Gulu Town
The journey will start early morning heading to northern Uganda ,on your way ,you will stop at ziwa rhino sanctuary which is now a home for the white rhinos that have been re-introduced in Uganda, after have lunch and continue with drive to gulu town along the way you will cross river Nile at karuma bridge and also view the karuma falls. Dinner and overnight Gulu town.
Day 2
Drive To Kidepo Valley National Park
After breakfast we shall start our drive to kidepo valley national park, the park lie in the rugged, semiarid valleys between Uganda's borders with South Sudan and Kenya. It has a large population of mammals and boasts of over 77 species and about 500 bird species. Kidepo has been Uganda's most isolated national park but is the most magnificent and ranks high among Africa's finest wildness destinations. In the late afternoon you will have a game drive. Dinner and overnight lodge. 
Day 3
Game Drive And Nature Walk-hot Springs
After your breakfast you will head for the game drive, kidepo valley national park offers Elephants, Zebras, giraffes, large herds of buffalo, prides of lions, cheetah, leopards and lots of antelopes and a number of bird species. The game drive will lead you to the Narus valley where you will have a nature walk to the hot springs, return to lodge for lunch break. Later evening game drive. Dinner and overnight lodge.
Day 4
Game Drive And Community /cultural Visits
After an early breakfast you will embark on the cultural walk to the nearby communities to see how they leave their life throughout the day and getting to share some life stories with them, u can spend as much time as you want with these Karamajongo people and have more insight on their way of life. Traditionally they are cattle raiders and hunters but of late due community conservation education their life style is gradually changing and most of them now know the value conservation of wildlife. Lunch box, dinner and overnight at the lodge.
Day 5
Drive To Murchison Falls National Park
After breakfast we shall drive to Murchison falls national park, lunch on the way around Gulu town and after we shall proceed with our drive to the park reaching in the evening and entering with a brief game drive to the lodge. Dinner and overnight lodge in the park.
Day 6
Game Drive And Boat Safari
Early breakfast as we rush for the early game drive to search for the big cats such as lions and leopards, Murchison falls is the largest game park in Uganda offering about 70 species of mammals and lots of birds. Lunch back at the lodge and late afternoon you will go for the boat safari on the might river Nile the longest in the world. On the boat you will chances to see lots of water birds and mammals coming for water plus the Nile crocodiles. Dinner and overnight lodge in the park.
Day 7
Drive Back To Entebbe
After your breakfast you will embark on the drive back to Entebbe airport for your flight back home.