12 Days Best of Uganda Tour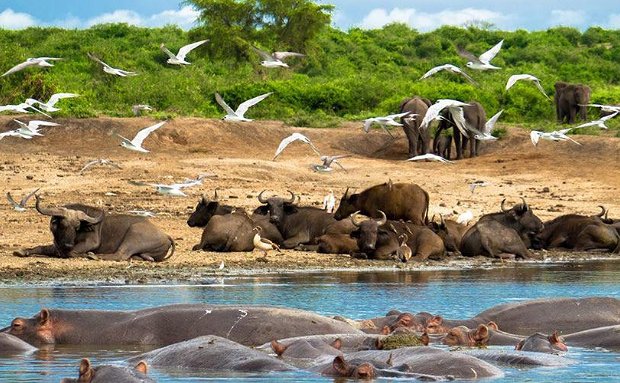 12 Days best of Uganda safari tour, this tour will take to Murchison falls for the wildlife game with Rhinos on the way in Ziwa, exciting boat safari on the mighty river Nile, primates in Kibale Forest, tree climbing lions in Ishasha sector queen Elizabeth national park then the amazing mountain gorillas in bwindi impenetrable forest national park.
Gallery
Itinerary
On arrival at Entebbe Airport, you will be warmly welcomed your guide will transfer you to your Hotel.
Day 2
Rhinos, Murchison Falls Park
Drive to Murchison falls, you will have a stop at Ziwa Rhino Sanctuary where Southern White Rhinos are being re-introduced in Uganda under the Rhino Fund.
Go for an early morning game drive. This is a beautiful drive across Borassus Palm Forest and grassland savannah down to Lake Albert where the Albert Nile heads north.In the afternoon, go for a boat ride up the Nile to Murchison Falls, where 'the park derives its name. Enjoy these spectacular falls where the Nile squeezes through a 7meter gap, and at the bottom bask Huge Nile Crocodiles. You have an option to climb the cliffs, to the top of the falls revealing another starting side of these falls. Return to Hotel by car.
Day 4
Kibale Forest National Park
After breakfast, you will depart for Kibale Forest National Park along the way you shall pass several tea plantations; having packed lunch en-route. Kibale Forest is the large protected block of rainforest, which has about 13species of primates, such as Chimpanzees, Grey Cheeked Mangabey, Red Tailed monkey and Red Colobus.
Day 5
Chimpanzee Trekking
Today you will go for Chimp tracking and enjoy a wonderful forest experience of trekking. In the afternoon, you will have the opportunity for a guided walk through Bigodi swamp. Bigodi Wetland Sanctuary is managed by the Kibale Association for Rural and Environmental organization formed in 1992 with the aim of achieving social and economic development for local communities. This swamp is a home to approximately 137 bird species and it's also rich in vegetation, such as wild palms, polita figs and the dominant papyrus.
Day 6
Queen Elizabeth N.P
After breakfast you will drive to Queen Elizabeth National Park. You will cross the Equator as well as have a chance to view quite a number of games as you enter the park.
Day 7
Game Drive, Launch Cruise
Today you will have an Early Morning Game Drive, and an afternoon boat ride on Kazinga channel. Queen Elizabeth boasts one of the highest bio diversity ratings of any game park or reserve in the world, from the open Savannah to rain Forest, dense Papyrus Swamps and Crater Lakes to the vastness of Lake Edward. Set against the park's magnificent vistas include dozens of craters carved dramatically into rolling green hills, panoramic views of the Kazinga channel with its banks lined with hippos, buffalos and elephants.
Day 8
Queen Elizabeth N.P Ishasha-Bwindi
Depart for Bwindi National Park, home to the Mountain Gorillas. Along the way you have an opportunity to undertake a game drive in the Ishasha Sector, and search for the Tree climbing Lions, Later Proceed to Bwindi.
After breakfast you will go for Gorilla Trekking. Gorilla Trekking is a captivation and unforgettable experience which more than repays the effort needed to reach Bwindi and to trek through the forest. Gorilla trekking can last from a few hours to the whole day depending on where the gorillas where left the previous day. In the afternoon, take a village walk where you have an opportunity to visit a pygmy Community. Alternatively take a nature walk in the Forest (optional) and visit the amazing Muyaga waterfalls set in middle of this Tropical rain forest to view birds and primates along the Forest edge.
Day 10
Lake Mburo National Park
Proceed to Lake Mburo National Park that is located in extensively rich Acacia woodland. The National Park is made up of a mixture of habitants ranging from dry hillsides, rocky outcrops, bushy thickets, open wooded savannas to forest lakes and swamps. You will have a game drive on your way in.
Day 11
Lake Mburo National Park
Have a morning guided nature walk into the wild, return to the Hotel for a hearty breakfast. The Park is home to Elands, Zebras, Impalas, Warthogs, Buffalos, Hippos, Oribi Reed bucks, Hyena, Leopards and few Lions. After lunch you will have a boat trip on Lake Mburo. 
Day 12
Lake Mburo-Kampala
After breakfast you will drive to Kampala. You will have a lunch stop at the equator, take pictures and later proceed to Entebbe to catch your Flight back home.